Dental Hygiene
It is important you take extra care of your dental hygiene when you have braces. Taking time to brush correctly after each meal, flossing and using mouthwash will ensure your teeth and gums stay healthy during treatment.
We also recommend you continue your regular check-ups with your usual dentist or dental therapist throughout your treatment.
The products we have available to purchase at our clinic are specifically designed to be used with braces:
Toothbrushes
Toothpaste
Toothmousse
Superfloss
Interdental Brushes
Mouthguards
Cooperation
Your cooperation is important during treatment. Following instructions, taking care of your appliances and teeth, using elastics as directed and attending your scheduled appointments, will ensure your treatment is completed as quickly as possible, with the best results.
If you notice something is broken, please let us know as soon as possible. We may need to schedule an extra appointment to repair the breakage, as routine appointments don't always allow time for repairs.

Get to know your braces
Knowing each component that makes up your braces is important, so you can maintain and look after them properly. If something breaks, you can let us know exactly what it is.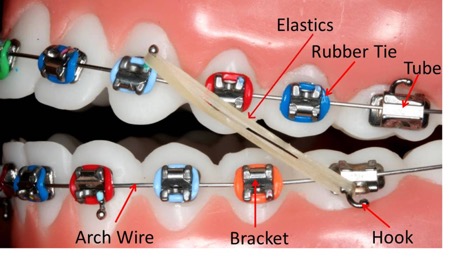 What can I eat?